Are you interested in building a custom 3D scanner app for your business?
Go through our list of five things you need to think about before starting this project and make sure you're doing it the right way!
Over the last few years, 3D scanning has gained huge popularity and has become widely accessible to most people. Companies are now able to build custom add-ons for 3D scanner software, allowing the user to manipulate scanned objects or create a specific workflow for the scanning
process. Actually, for some companies in the construction or medical industries, adding a 3D scan functionality to their processes has become a must if they want to ensure sustainability. If you're already exploring options, you know that every research starts with the right technical questions.
What Is a Custom 3D Scanner App?
3D scanning is a process of gathering data for an existing object. It allows businesses to analyze the digital version, get the precise dimensions, calculate further specifications to manufacture a product based on the scan, or even create a printable 3D model. A 3D scanner app allows you to translate the dimensions of your object of choice, analyze, and manipulate it. This cutting-edge technology has been implemented in almost every industry, ranging from medical and construction to design and fashion. Due to the extreme ease of use this technology provides, many companies are looking to create their custom 3D scanning applications to enhance the existing functionality of existing 3D scanner software.
Despite the complexity of the technology and the resources it requires, now there are options even affordable for small and medium-sized companies. However, the price is not the only factor you should be considering, you also should be aware of the options you have before you start spending money building a custom 3D scanner app.
What Do You Need to Know Before Building it?
Firstly, you need to decide on the scanner that would work best for you. There are various types of 3D scanner apps available based on the technology they use. Before starting to build your custom app, you might want to take a look at them and decide which would best fit your business goals:
The first feature that makes a difference is range. There are short (< 1m) and long-range (> 1m) 3D scanners, where short-range ones are portable, which means that your app will, most likely, have to capture objects within physical reach.
There are also differences in the technology they use. There are five main approaches: photogrammetry, structured light, laser triangulation, RGB-D, and Time-of-Flight (ToF). Photogrammetry is claimed to be the fastest option and the one with the lowest barrier to entry, while structured light and laser triangulation usually offer the highest resolution. RGB-D and ToF provide a nice mix of high speed and low barrier to entry, although with somewhat limited resolution.
The next line of thought addresses the features that you'd like your custom 3D scanner application to have. Here, there are three points worth mentioning:
You have to pay attention to the post-processing features. You will most probably need to be able to edit the initially scanned image and show a scan preview, which will require a more complex solution. You also need to check what type of export options you would like to have and whether you'll need the option to add a specific texture to your model or not. These are post-processing features that are not likely to be available in ready-made options – consider having them available through a custom 3D solution.
Think of the level of control over the process you'd like your users to have. In most cases, it would be a good idea to provide full control — the ability to start and end the scanning process manually; notifications for scan progress, and completion or failure.
If your custom solution is for sale, consider including live tips or an add-on that will help your users cut the learning curve and use the app successfully. For example, it might be good to add a light detector that tells whether the light is sufficient for proper scanning. Moreover, these apps usually have difficulties processing shiny objects.
Examples of 3D Scanner Apps
At Scopic, we have developed quite a few applications that use 3D scanning in various industries. We've worked with companies that specialize in dentistry, design, healthcare, and sports, among others. Check out some of them:
Built with Artec 3D Scanning SDK, the main feature of the current version of the app is to analyze the image of a scanned end of a bundle of lumber, allow the user to re-view or modify the widths of the pieces, and then pass the piece information to another existing program.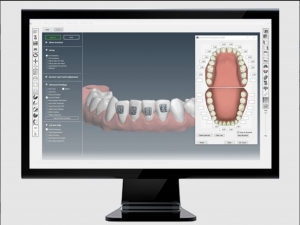 OrthoSelect is a dental image processing software, used by orthodontists and dentists to create fast and affordable 3D models of patients 'teeth. OrthoSelect software is used in treatment planning to calculate exactly where brackets and braces align on patients 'teeth. This app improves patient experiences and makes it easier for orthodontists to provide quality care.
Are you curious to see more real-life examples of custom 3D scanner apps? Check out all projects in our 3D soft-ware solutions portfolio. Regardless of the industry you're in, custom add-ons will provide exciting new opportunities for your company and clients.
Furthermore, making an informed decision is key for the success of the project, so keeping in mind the five points discussed above will help, regardless of whether you have a technical background or not. It's important that during the planning (discovery phase of the project), you outline the specifications so that there is no need to rework at a later stage. This will save you a lot of resources and ensure a successful execution. If you're ready to start building your own 3D scanner app, feel free to contact us and we'll discuss with you the options and the best approach for your business.