The number of home-based companies is rising every year, with start-ups and established companies swiftly realizing the benefits of being virtual.
According to statistics, over 50% of small businesses in the US are based at home! It's easy to see the attraction for staff, they get to work without the extra time, cost and stress of commuting, but what's in it for businesses and why should you consider starting your own virtual company?
Here's 8 benefits to consider: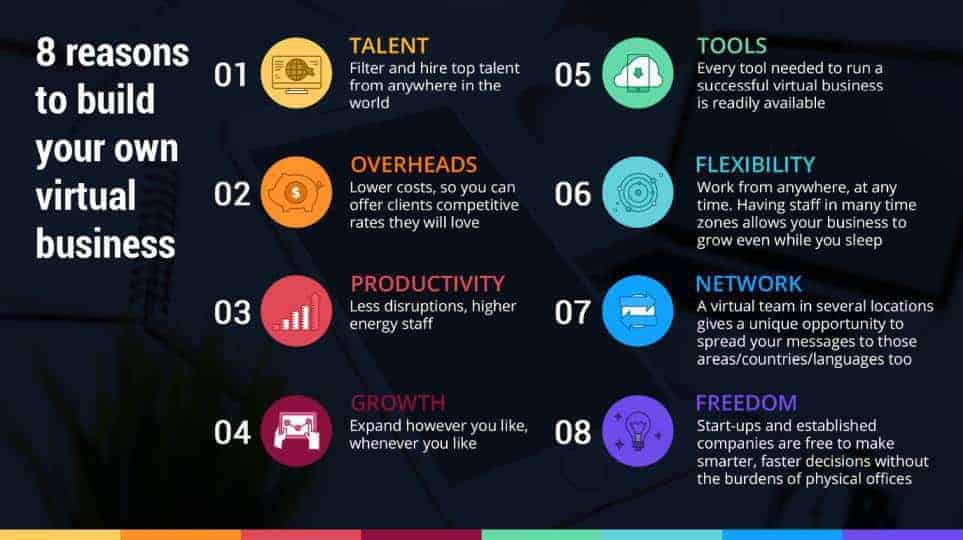 Talent


Hiring the right staff is never easy, but with access to global talent and various ways to streamline the online interviewing and recruitment process, it's far easier! Your staff make or break your company, so why settle for what's nearby, when someone further afield could be more suitable and have more of a positive impact on your business?

Overheads


Without having to worry about office leasing, furniture, hardware, bills, etc, you can work just as efficiently, if not more so, with a virtual company. That means you can offer your clients competitive rates and increase savings for your company.

Productivity


Your staff don't have to commute anywhere, they can eat/drink when desired and have less distractions in their own private workspace at home. With everyone doing their jobs, you can also be more productive, checking the status of everything online instead of having to make it to the office. You can be in control of your business and enjoy high energy staff that feel good about being given the responsibility to work from home. Reduce the amount of sick days your staff have because they don't want to give the entire office their cough and cold but are still able to work, with virtual companies this is not a problem!

Growth


Without being confined to bricks and mortar, you are free to expand however and whenever you like. If something works particularly well, hire more talent and do more of it, no need to worry about having enough space and equipment in the office! Virtual companies are far simpler and quicker to scale up (or down) as you need.

Tools


With huge companies such as Microsoft, Amazon and Apple, making some or all of their business virtual, some excellent tools have been specially developed to manage everything from team discussions, to work and file sharing, to task prioritizing and timing. Every part of a business that needs to run virtually, there is a practical tool for it. You may find these tools will help streamline your operations further, making your business even more effective and productive.

Flexibility


Every aspect of your business can be far more flexible as a remote company. Instead of work finishing at the end of the day, you can keep it going with staff in different time zones. So, when you wake up in the morning, more jobs have been done while you were asleep! Virtual meetings are also far more flexible (and cost effective) for time, so you can schedule client meetings much easier, or even have one of your staff conduct the meeting in the appropriate time zone.

Network


Having a virtual team spread around the globe, gives you the unique opportunity to take your business to those countries and languages, too. Your potential network becomes huge and you could gain country specific insider information that would usually be hard and/or expensive to gain otherwise.

Freedom


Running a virtual company gives you the ultimate freedom to make faster, smarter decisions without any of the traditional confinements of being office based. Remote business also frees up more time in your week and your staff's week. If the usual commute was around an hour, that's roughly 50 hours per month you would free up to build your business!
There is no longer a stigma attached to not having an office and the benefits above far outweigh the potential downsides such as: online communication misunderstandings (can be improved with video meetings using Skype), security of data (extra measures can be taken), and work infrastructure (needs to be clarified to all staff from the moment they start working remotely).
Starting a virtual business doesn't mean you have to sacrifice the human side of your company (just ask our team at Scopic). You and every member of staff will be walking, talking advocates of your brand, so every member of your team is a physical presence of your company, they just happen to work from home.
Although many companies are being forced to adapt to this new reality, there are many ways managers can make things run smoothly. If you're curious to learn more check out our blog post on making virtual teams work. Read our 7 steps to build a remote team.
There are endless opportunities for starting a remote company, and modern technology such as Blockchain and Artificial Intelligence, brings with it new opportunities for business that were never previously there.
Question is, what kind of virtual company will you build and how will it serve the new generation of consumers over the next decades?
Author Bio: Eva George, Marketing Specialist at Scopic Software.