The world has changed drastically in the past couple of months and remote work is something everyone talks about lately.
And why not? It provides flexibility, freedom, and endless opportunities. If you don't know what remote work is, go check out part 1 of this blog post to learn about the different types of remote work, the good, the bad and the ugly shared by Scopic's full-time remote employees. In this article, we'll look at remote work from a different angle: what are the important factors to consider when hiring remote employees or looking for a remote job?
Scopic, being one of the biggest fully remote companies in the world, has great expertise when it comes to telework. We have synthesized the decision-making process in 3 aspects to consider when it comes to having a remote team.
Employee Morale
People need freedom; we all know that. Working in an office with walls where we have a strict schedule creates unconscious emotions, where we feel limited. The latter puts a negative spin on our morale, therefore our productivity.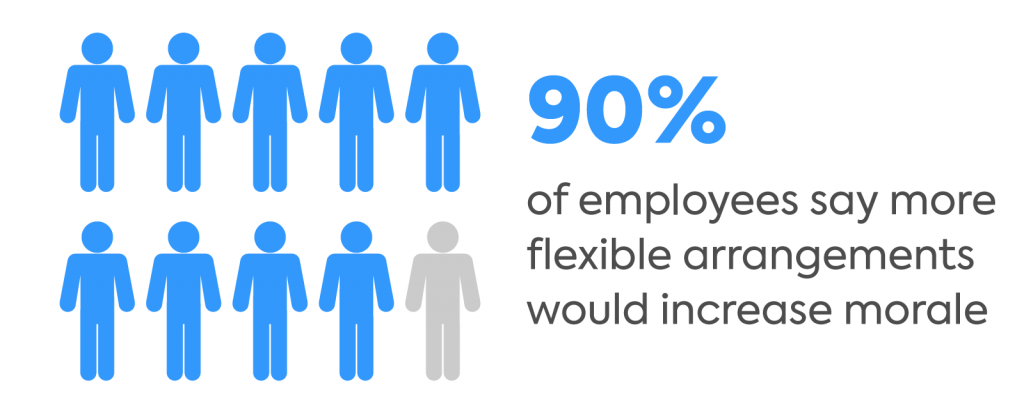 Morale is something companies can't overlook. In fact, most spend a lot of money, time, and effort in increasing employee morale – when all people really want is to have some independence and freedom.
As we can conclude, flexible working conditions are crucial when it comes to increasing the spirit of employees. Research shows that 80% of U.S. workers say they would turn down a job that didn't offer flexible working arrangements. In fact, the latter is so important to them that more than ⅓ rd of those interviewed say they would prioritize such arrangements over having a more prestigious role. Something to think about for all employers out there who organize many team-building events and prepare expensive gifts for their workers.
Employee Productivity
What is one of the most important things employers consider when hiring new workers? Productivity. At the end of the day, all businesses are looking to make money. And with low results and stagnant productivity, the ship can't fight the waves.
You've probably heard people say that remote employees are more productive. But it gets you thinking, "how can one be more productive while writing code or creating designs from home with no supervision and endless interruptions?" Of course, these are real concerns. However, remote workers deal with those on a personal level – which keeps those issues from affecting your business. People working from home value the flexibility that comes from their remote jobs. Because of this, they are ready to go the extra mile and make it work. If there's a job that needs to be done, they may be even willing to work at night, during weekends and even on holidays, and give you results.
It gets even more interesting. When workers are asked why they work longer hours, on-site employees say they work more hours because they have to. Do you know what remote workers say? They do it because they like to.
To give you some proof, let's consider the results of a CoSo Cloud survey.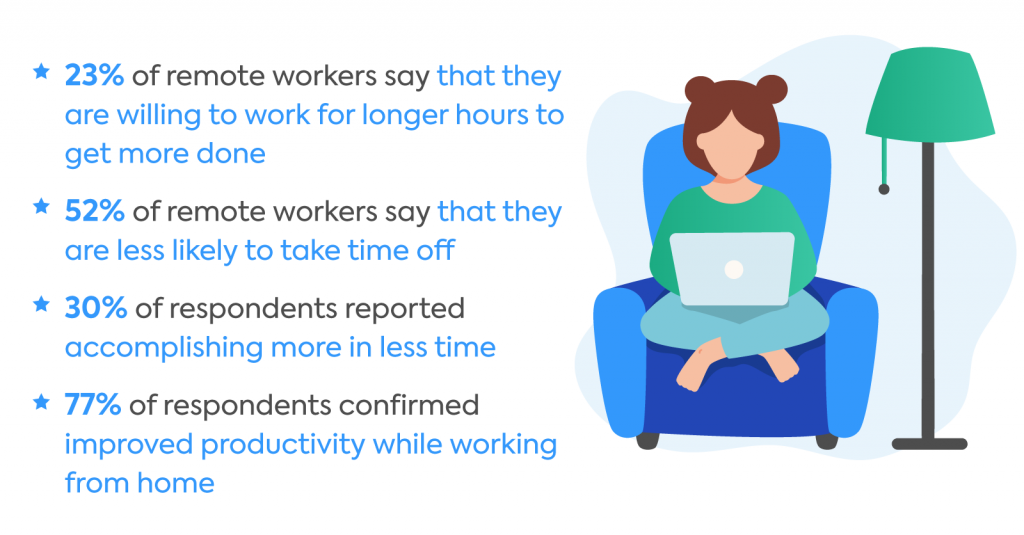 Moreover, 85% of businesses confirm that productivity has increased in their company as a result of greater flexibility given to their employees. This takes us to our third point.
Employee Happiness Level
We've talked about morale and productivity. Now it's time to consider the happiness and the feeling of fulfillment of employees. Below are the findings of a survey by Owl Labs.
83% of survey respondents say that the ability to work remotely would make them happier
80% of all survey respondents agree that the ability to work remotely would make them less stressed
74% of survey respondents agree that the ability to work remotely would make them less likely to leave their employer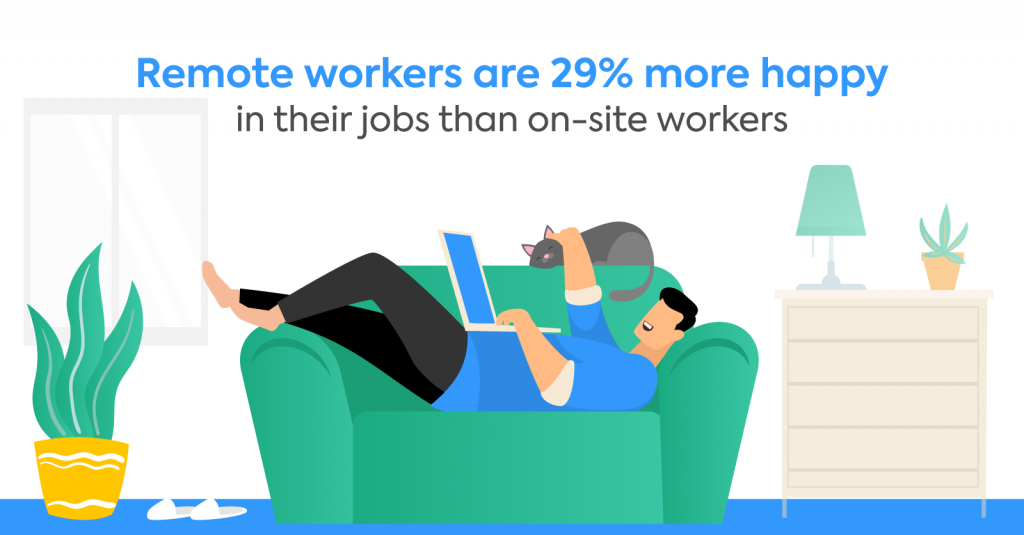 So, if working remotely is great for both employees and employers, why wouldn't the whole world do it? It turns out, it's not only rainbows and butterflies when it comes to remote work. There's a lot of consideration and best practices to be taken into account: project management, time tracking, and more.
Working Remotely: Tips and Tools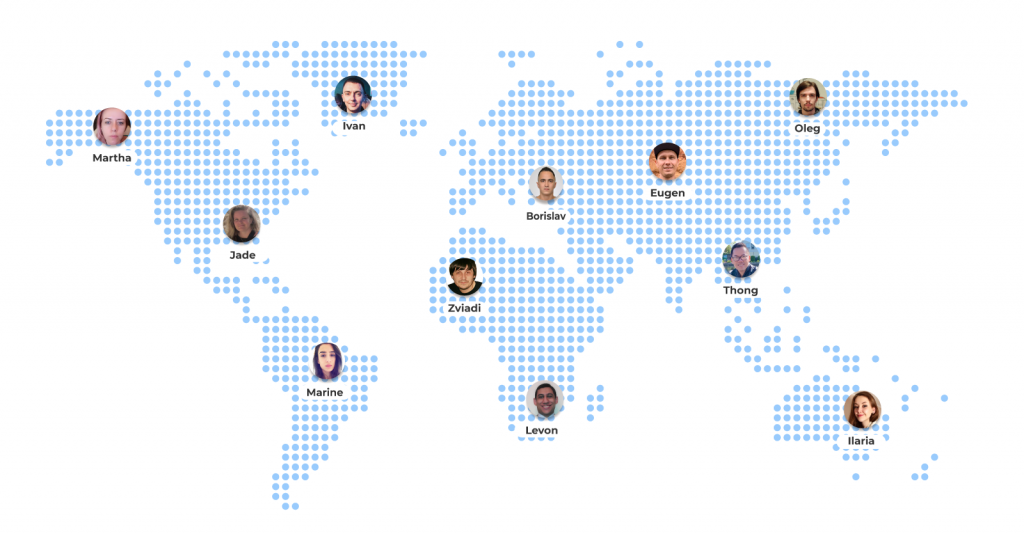 While remote work is not for everyone, there are still some skills that one can learn, which can help employees be great remote workers. On that note, our employees shared their best tips to help you manage your work-life balance and enjoy the perks of remote work.
Take short breaks after every working hour
"The best impact on me is a short walk with my dog or a 10-20 minute workout. Of course, it's also important to go out to "see" and communicate with real people to not become a virtual robot." – Ilaria (People Operations Coordinator)
Assign a time box or a working schedule
"Reserve the time for work, i.e., from 08:00 – 18:00 with 2 hours break at lunch or others. Also focus on the balancing of  5 F factors: Friends, Family, Finance, Faith, Fitness." – Thong (Project Manager)
Discipline yourself throughout the day
"Make a strict schedule of your working hours, pick the one that best suits and stick with it. Screwing up your schedule is your biggest enemy when working remotely." – Zviadi (Senior Developer)
Don't spend time near your computer if you're not working
"It's better to do something around the house, communicate with your family, etc. It will help you to always have a clear mind and be productive during work activities." – Ivan (QA)
Eat the frog first
"Wake up early and start working early. And make sure to take care of the big and hard tasks first before getting too tired." – Marine (Marketing Specialist)
Don't think about work after your working hours finish
"Have set hours for work so that you can enjoy your life after work fully, not having to think about that one task that you still have to do with the heaviest feeling of guilt inside. Don't open your emails and dig into newly assigned tasks when you already are done for the day. This keeps you happier and more satisfied with your life after work." – Marine (Marketing Specialist)
Now that you know everything there is to know about remote work, are you ready to take the next step and apply for your dream job?