The global healthcare industry is evolving at a tremendous speed and is predicted to reach nearly 660 billion dollars by 2025.
Medical software development highly enhances the quality of patient care, reduces costs for hospitals, and streamlines operations. Companies offering advanced healthcare software development services aim to improve the affordability of healthcare, patient access, and healthcare provider capabilities.
Want to change the development course of your healthcare organization towards newer innovations? Well, then you need to familiarize yourself with the most recent healthcare technology advancements to identify your future areas of improvement.
Top 3 Emerging Healthcare Technology Trend
Telemedicine
Telehealth is the term used to describe when healthcare is crossed with technology. It's the usage of digital communication technologies, such as computers and mobile devices to access health care services remotely. It is useful in when improving long-distance patient care and monitoring.
The efficiency of telehealth services is especially notable for chronic disease management, primary care, or digital therapeutics (DTx). Take a minute to contemplate how this hybrid care model expanded healthcare accessibility for people and made systematic care more efficient and dynamic over recent years.
AI and Machine Learning
Artificial intelligence and machine learning are being extensively used in predictive analytics and comprehension of complex health data.
Artificial Intelligence enables better judgment and reduces both human error and the risk of preventable scenarios. AI-empowered medical solutions help researchers and medical professionals develop advanced healthcare software. It enables medical software development to ensure more precise and faster diagnosis and prevent the progress of infectious disease patterns at an early stage.
Impressive, right?
It's safe to say that learning algorithms will continue to progress becoming even more powerful in the future and are expected to bring the healthcare industry to a completely new level.
Augmented and Virtual Reality
Other trending technologies in healthcare are virtual reality (VR) and augmented reality (AR).
Based on HIPAA-compliant cloud infrastructure, they can enable the creation of innovative applications to engage patients in activities and games for rehabilitation purposes.
These applications also provide remote medical training for medical professionals and educate people about a specific disease, their medical condition, or the treatment process. Today, with the help of VR, robotic surgeons perform high-precision operations that upgrade the standards of the medical industry.
According to research, it is expected to see a steady growth of AR-VR in the healthcare market in the forecast period, 2022-2026.
Want to explore further?
Here are other big trends in medical technology.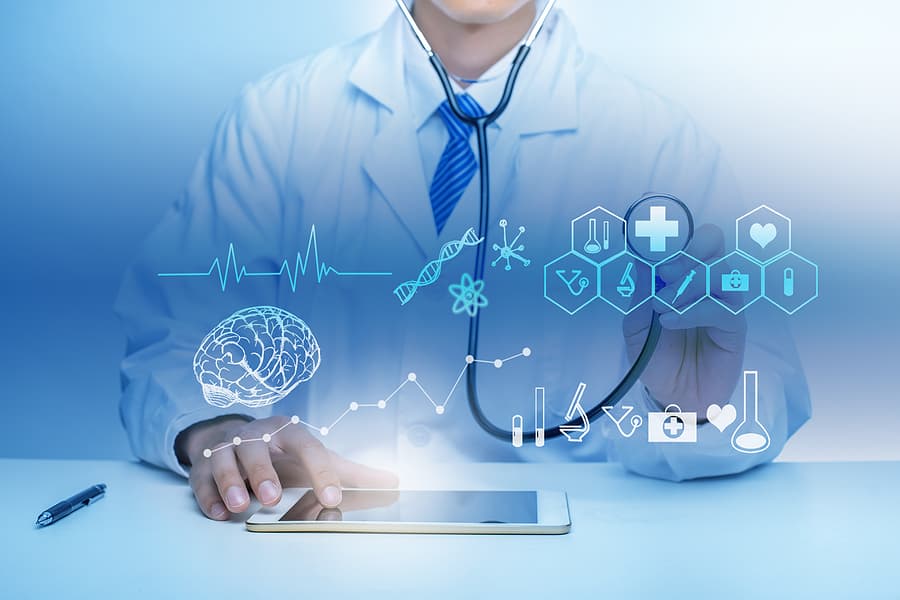 Internet of things in Medicine
IoT development is also an emerging digital health trend. Why?
Well, IoT enables healthcare professionals to be more vigilante and communicate with patients proactively. The result is a significant advancement of patient outcomes and employee satisfaction.
IoT leverages real-time health tracking capabilities that help healthcare professionals gain more control over the patient-care cycle. It enables the tracking of medical equipment or hospital navigation systems to boost remote monitoring. What's more, IoT is slowly becoming one of the most effective and secure ways to streamline medical processes.
Big Data in Digital Health
Big Data in healthcare helps achieve great results, save on costs, and build efficiency across all medical ecosystems. The vast amount of accumulated healthcare data can be embedded into AI or machine-learning algorithms to be analyzed and interpreted, providing real-time data insights. Such analytics are especially valuable for chronic or complex disease prevention.
In other words, Big Data in medical software development helps to draw actionable conclusions from large pools of healthcare data. This data comes from sources such as electronic health records, medical imaging software, wearables, doctor appointments, etc.
Advanced EMR & EHR Systems
Digitalization has the potential to completely transform electronic health systems (EHR). Software development services aims to refine medical data management and data security. Advanced medical record systems (EMR) provide better patient records and analysis and are able to automate clinical workflows.
This evolution of EHR software development facilitates the work of medical professionals in hospitals and other healthcare organizations. Additionally, increased patient accessibility enhances doctor-patient communication, driving more satisfying patient outcomes.
Mobile Apps for Wellness
In the USA, it is forecasted that in 2022, the number of users for health and fitness apps will reach 86.3 million.
Surprising? Not at all.
Countless lockdowns during Covid-19 have led to mainstream adoption of wellness apps. These interactive applications help people around the world develop their mental health, maintain necessary physical activity at home, and get personalized healthcare remotely.
What's even more important is that many organizations have recognized that wellness apps can increase employee engagement and productivity. Different approaches for a healthy workplace environment have been around for decades, but corporate wellness apps are relatively new.
Are there software companies responding to healthcare tech trends?
Hi-tech innovations keep developing and creating new opportunities for healthcare professionals and organizations. Scopic has more than 15 years of experience in medical software development, building advanced software to reshape the future of the healthcare industry.
We listen to your needs and provide custom software solutions to help your overcome you biggest challenges as a healthcare provider. Our professional development team has experience in the creation of HIPAA compliant medical devices and complex healthcare software that revamps patient care and streamlines your medical workflows.
Share your vision with our experts. Let's innovate the medical industry together.