How Commercial Passport Transformed an Abstract Vision Into Revolutionary Software
The Commercial Passport software suite is the finance industry's first reusable master record of legal entity documentation and beneficial ownership information. Built for financial administrators, it allows users to securely certify, store, and share sensitive identification documents.
This digital record simplifies the processes of exchanging documents, opening accounts, onboarding clients, and reviewing compliance. Passport's paperless system is faster, more affordable, more secure, and better for the environment than standard document sharing practices.
Following the 2008 global financial crisis, a slough of new regulations were introduced forcing financial institutions to more stringently verify account holders' identities and maintain Know Your Customer (KYC) records. These requirements signifcantly increased the time and expense required to open accounts and conduct routine financial transactions.
This was exacerbated by the fact that the finance industry's documentation processes remained outdated and unreliable, requiring paperwork to be shuffled around the world through postal services and courier envelopes. Clients were expected to manually gather, authenticate, and then ship paper copies of required documents for review by compliance personnel. Requirements for foreign entities were especially unclear, and were often returned with a request for clarification, recertification, or additional documentation. This process could take months, and had to be repeated anew for every financial institution. It also created serious security and chain of custody vulnerabilities as client's sensitive documents changed hands.
Commercial Passport Founder wanted to solve this problem, but there was no solution on the market to look to as a reference for implementation. In order to make the software truly global, it needed to support legal entities operating in jurisdictions around the world, which had never been done before.
Scopic recognized the potential of Kennedy's idea and put together a powerhouse team to build the world's first digital global KYC software. The team carefully crafted the software architecture, and outlined a concept that would revolutionize the way personal documentation was shared, certified, and stored in financial institutions around the globe.
"We took his idea and proposed a successful way to materialize it from the ground up… We came up with the concept for how to generate the passports and how to make the project work."
Miroslav Kostov, Scopic Project Manager
One of the most innovative aspects of the software introduced by Scopic's team was the use of blockchain technology to maintain secure and verifiable records of document transaction histories. This – in addition to 2-factor authentication, data encryption, and document lifecycle history – would ensure that Commercial Passport offered the highest level of security available.
In order to accommodate differences in international legal systems, Scopic implemented a set of environment modeling algorithms, designed to automatically detect beneficial ownership and legal controller structures for any company structure or jurisdiction in the world. The software draws on a database of legal entity types from over 100 jurisdictions worldwide.















In one year, the team developed a fully-functional version of Commercial Passport for presentation to financial enterprises and investors. Users could create a single-point KYC repository of documents, digitally certify and notarize them through a credentialed notary, and bundle them into a "commercial passport". This could then be shared electronically with any bank, fund administrator, financial institution, or other relevant party. This solution addresses the major problems associated with document collection and certification, saving financial institutions and their clients time and expense. Following the successful initial release of Commercial Passport, Kennedy began to propose increasingly ambitious ideas for feature enhancements and additions. In the first year after release, the team put out eight major updates addressing requests from enterprise clients and enhancing functionalities with the latest technological developments.
Today, Commercial Passport is on the way to replacing outdated paper-based documentation processes across the global financial industry.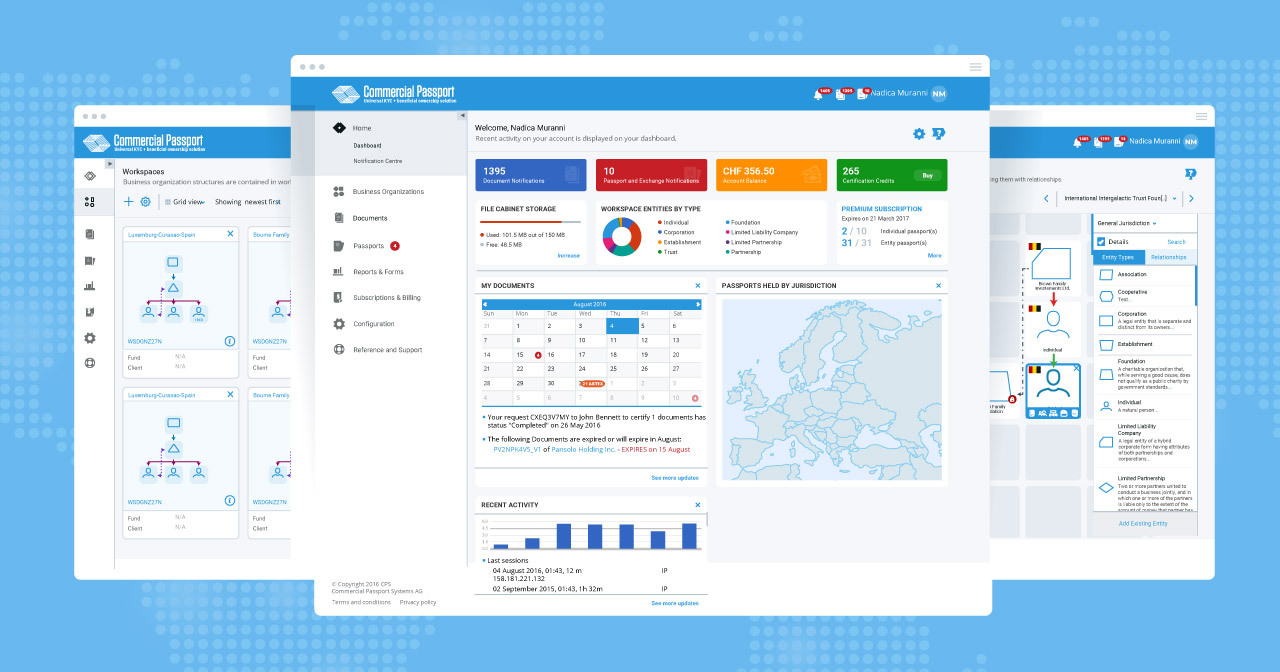 Talk to us about what you're looking for. We'll share our knowledge and guide you on your journey.